DailyHoroscope is an astrological project that has been entertaining horoscope lovers and fans of divinations from various countries since 2016. Until quite recently, DailyHoroscope only used emails to interact with their audience. But the audience kept growing and becoming more diverse, which made it evident that DailyHoroscope could use an additional communication channel.
---
Why SMS?
The channel had to be chosen based on two conditions:
DailyHoroscope's monetization relies on the PPC model: each click on an in-content ad brings profit. The project has to drive viewers to its content non-stop: the more people see a content item and click on in-content ads, the bigger the revenue (per each unique viewer).
The project also wanted to keep its existing audience interacting with its content: this could minimize traffic costs and help build a more stable monetization scheme for the future.
With these two conditions in mind, DailyHoroscope opted for the promising high-capacity channel of SMS messages. Virtually everyone has a mobile phone; plus, for an astrological project, this type of traffic proved to be the most cost-efficient.
The goal of the study was to compare the performances of the SMS and email channels and determine whether the project could support multichannel communications.
---
What issues came up at the initial stage?
DailyHoroscope started their journey through the SMS channel in the dark. Of course, they used essential analytics but collected no detailed data or customer information. These SMS marketing efforts brought them about $25,000 per month.
They were determined to achieve more impressive results for the project. However, regular systems that enable SMS communications did not allow to:
Make an informed and detailed assessment of the ROI for traffic,
Create effective audience segments based on customer actions,
Monitor delivery across channels,
Schedule communications by time zones to improve delivery and ensure the recipients read the message.
Having determined the main issues, DailyHoroscope realized that they could – at least – double their revenue if they managed to solve the above-mentioned problems.
---
How did just services help?
The solution was brought by just, an ecosystem of services. Having obtained an account and integrated it with their current SMS communications system, DailyHoroscope not only addressed every issue from the list above – they discovered some additional advantages:
no need to change the communications system or transfer data to another facility. The integration was a quick process that involved minimal development effort – and costs.
enabled UTM* parameters in SMS messages. UTM parameters are a great way to optimize traffic purchase costs and avoid random interactions.
audience segmentation with UTM parameters. Performed right in just, it helps analyze customer interactions in any channel and via any partner to gain valuable insight concerning the ROI.
convenient sending settings. One can deliver SMS messages based on the recipient's time zone. It raises the chances of the message being seen and interacted with.
A single user-friendly interface that helps monitor campaigns, segment the audience, and purchase content– no switching between multiple tabs is required.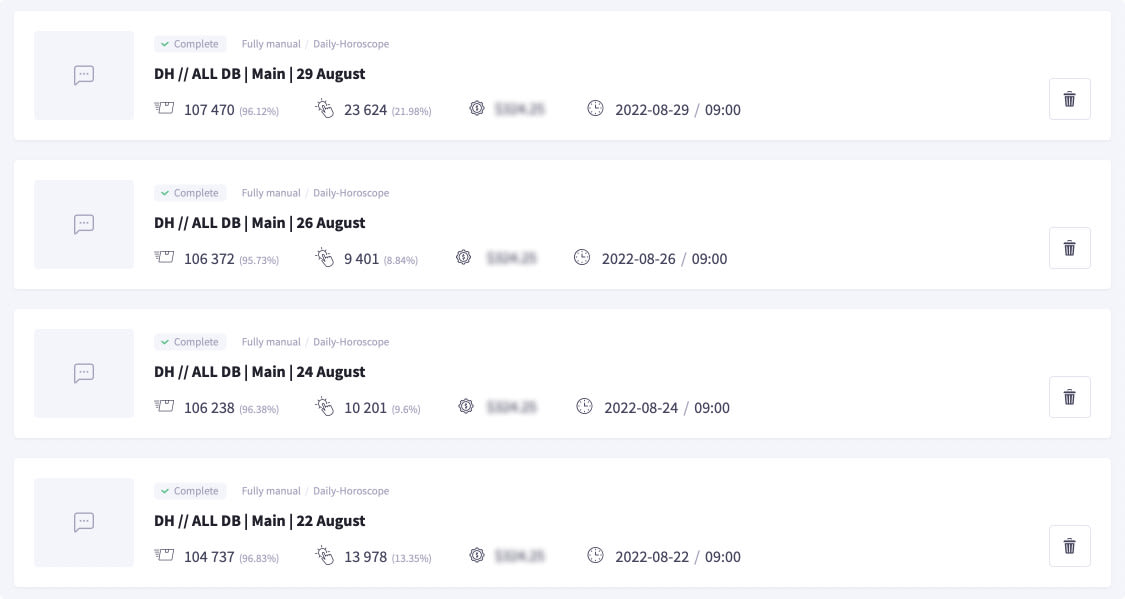 After they solved the immediate issues, DailyHoroscope started exploring all the features offered by the ecosystem to optimize their campaigns further.
---
Which traffic sources proved to be the most effective?
First off, DailyHoroscope segmented their customers' profiles and discovered the partner that provided the most cost-effective traffic.
After that, they shifted focus to the profiles themselves. In just, every action a customer takes is monitored and stored in the database. All the information about the customer, their actions and interests is collected in a single individual profile. DailyHoroscope analyzed the traffic that came from various sources – from direct traffic to push traffic from partners – and discovered the percentage of customers that actively interacted with the project's content within a month:
Co-registrations** – 53%,
Direct traffic – 30%,
Push traffic from partner 1 – 7%,
Push traffic from partner 2 – 5%,
Traffic from Google display ads – 4%.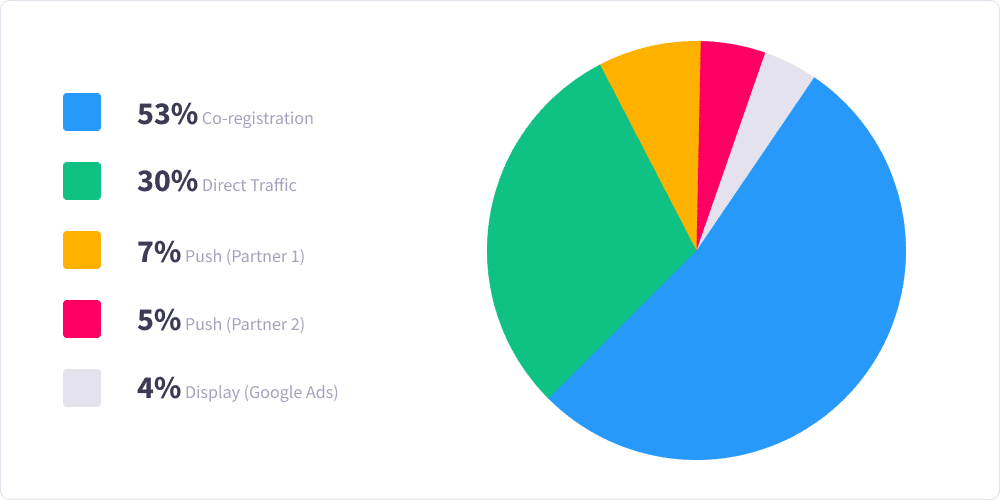 Because of low payback, DailyHoroscope had to ditch the display ad and push traffic. However, they managed to discover the most cost-effective traffic source – co-registrations. Plus, customers sourced from co-registrations proved to be the most active in terms of interacting with content and ads. Direct traffic came second.
Within just one month, DailyHoroscope found – and made agreements with – three new partners who provide coregistration traffic. All of the above helped increase the revenue by 45%!
---
What results were achieved with the help of just?
The project also carried out additional works that were not directly related to the experiment with the new channel. By using just, DailyHoroscope achieved the following results:
They optimized their customer interactions: thanks to advanced segmentation, the project could only send messages to the customers who are likely to fulfill target actions and, consequently, be cost-effective.
By using analytical reports, they reviewed the performance of different channels and found new ways of improving customer interactions in each of them.
The project started ordering custom content – without leaving just – based on the conclusions gleaned from analyzing the interests and actions in their audience's profiles. In other words, it is exactly the kind of content their customers eagerly interact with.
Over the period of six months, DailyHoroscope found eight more partners and is now sourcing traffic from them.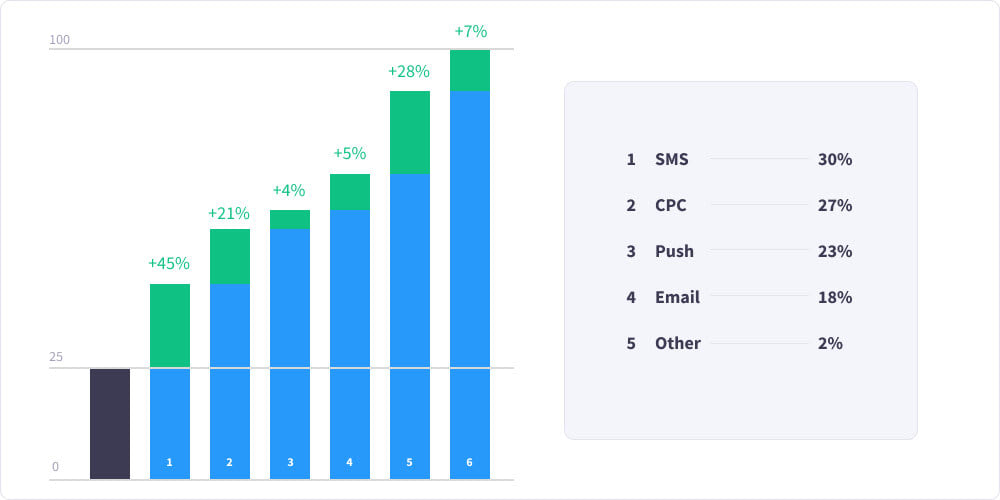 Thanks to the simplicity and ample customer interaction capabilities offered by just, DailyHoroscope has propelled the SMS channel to the top of monthly revenue: having started with $25,000, they're now profiting $100,000 per month. As of today, 30% of customer interactions are taking place in the SMS channel, and emails cover 18%.
---
*Urchin Tracking Module (UTM) parameters are URL parameters, a fragment of code that can be added to any URL and is used by marketers to gather analytical data from online marketing campaigns.
** Co-registration (coreg) is a lesser-known method of generating high-quality targeted leads on a pay-per-lead basis, usually involving an incentive. E.g., your company's offer is presented to people taking an online survey.