Collecting customer data can increase sales and improve the overall performance of your business. Companies collect their customer names and contact details, location, marital status, information about their interests, education, preferred communication channels, purchases, actions, etc. This data helps improve audience segmentation, marketing strategies, and content creation. But it is also abundant, and to take advantage of it, companies not only have to gather it, but also to store, update, clean, and systematize.
Types of Customer Data Platforms and how they work
To do all of the above, businesses rely on Customer Data Platforms, or CDPs, that collect data from several sources to create a database with transactional, behavioral, and demographic information about their customers. The term "CDP" was coined in 2013 by marketing analyst David Raab, who then—in 2016—founded the CDP Institute.
The Institute distinguishes between 4 types of CDPs:
Data CDPs provide the necessary minimum of features required for a platform to be called a CDP. Theу collect data from various systems, link it to customer IDs and store in a database accessible to external systems.
Analytics CDPs not only collect, but also analyze data. The analytics always includes segmentation, sometimes involves machine learning and predictive modeling, helps to attribute revenue and map the customer journey.
Campaign CDPs help collect and analyze customer data and use it to improve customer interactions. These CDPs can treat different customers in a different way even if they are included into a single segment and build coherent customer interactions across many channels, They can message customers, include them into marketing campaigns, interact with them in real time or give recommendations about products and content.
Delivery CDPs enable data collection, analytics, customer interactions, and multichannel message delivery: throughs emails, websites, a CRM, or via SMS. These platforms often were initially designed as delivery systems and then upgraded to CDPs.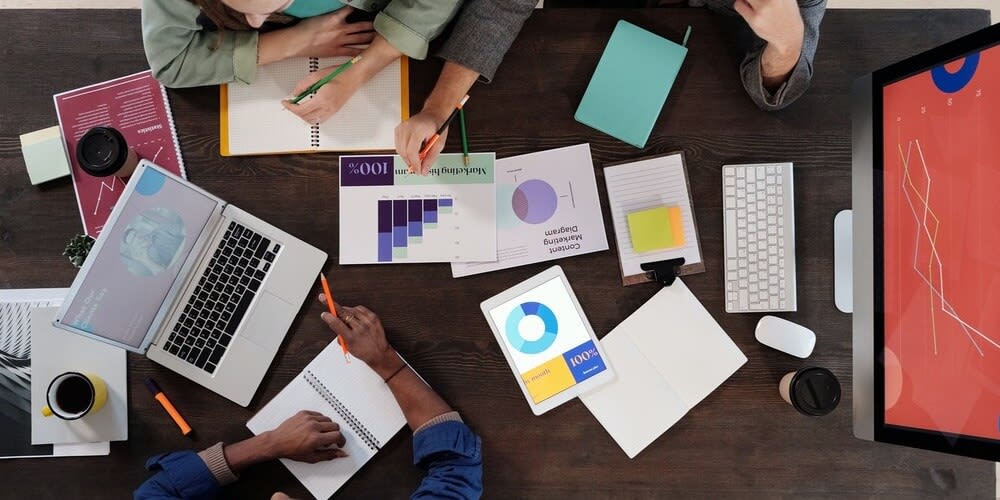 Some businesses do not a CDP: small ones, like standalone shops or startups, can do without it quite well. However, if your business is big enough, collecting and using customer data with a CDP will do you a lot of good, if you know how to do it right, of course.
To choose the CDP that will suit your business, consider your objectives AND the platform's features. Can it be upscaled? Is it flexible enough? Is it reliable?
For starters, take a look at this small list of CDPs and see if any of them will be a good fit for your business.
5 Great Customer Data Platforms for Your Business
1. Mindbox
Mindbox started in 2006 as a promotional agency for companies who sold fast-moving consumer goods. Today, Mindbox is a powerful cloud-based marketing automation platform with a 30% share in the markets of Russia and the Commonwealth of Independent States. Mindbox's clients include MIXIT cosmetics, large handset retailer Svyaznoy, and Metro AG.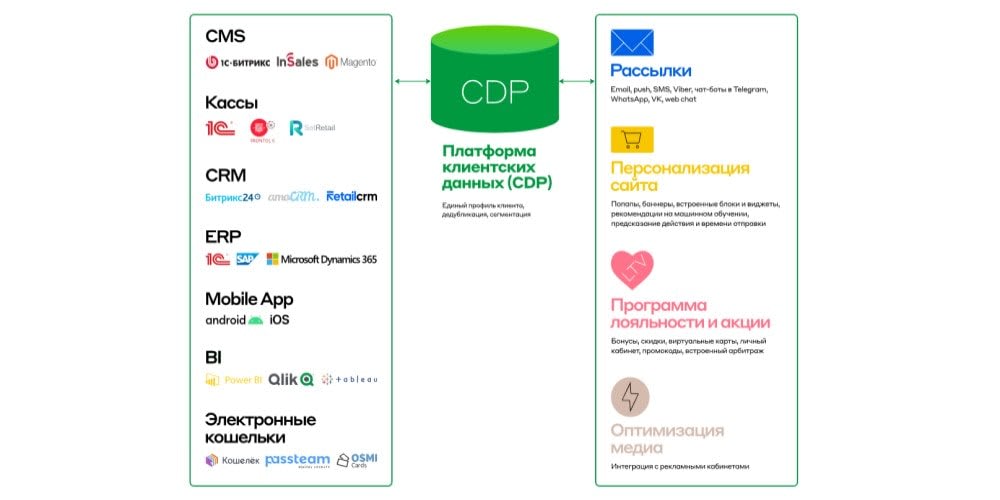 Mindbox offers:
a CDP,
mailings,
website personalization,
loyalty programs.
What Mindbox CDP can do:
create unified customer profiles,
segment data,
work with sales funnels,
generate promocodes and limited-time offers,
offer ready-made integrations and create new ones,
provide expert customer support.
The CDP can be used on a monthly subscription basis. The cost depends on a number of variables: the number of customers in the database, types of mailings, the number of messengers, etc. The minimum monthly payment—for a database of 1,000 customers and no additional features—is $145.
2. Segment
Segment was founded in 2011. It started as a JavaScript library intended for in-house use. It collected data from a website, sent it to analyticals services, and interpreted the results afterwards. Today, Segment is a high-quality CDP, whose clients names speak louder than words: FOX, IBM, Levi's, etc.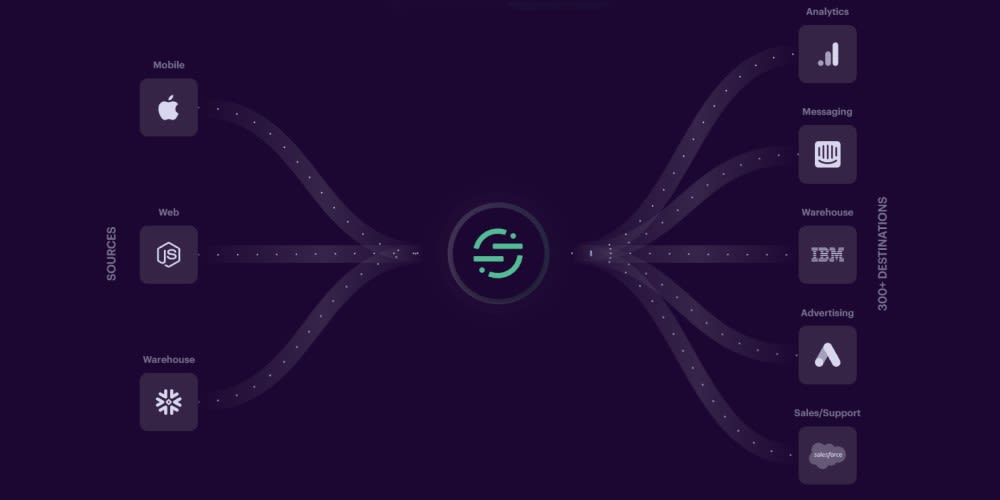 Besides a CDP, Segment offers the following services:
Connections – a single API for collecting analytical data in any system (SDK for JavaScript, iOS, Android и over 20 other server languages),
Protocols – a tool for improved data protection,
Personas – a platform for advanced work with customer profiles,
Twilio Engage – a platform that enables hyper-personalized marketing campaigns.
What Segment CDP can do:
collect, clean, and structure data in a single interface,
segment data,
comply with international privacy protection laws,
export data to any data storage of choice.
You can start with a Free plan or choose one of the paid ones: the Team plan starts at $120 per month, the Business plan has custom pricing. Free, Team или Business — it depends on the number of customers and data sources.
3. Acquia
Jay Batson and Dries Buytaert created software company Acquia in 2007. It was based on open source code content management software Drupal. Today, Acquia is a major ecosystem that includes a variety of interconnected products.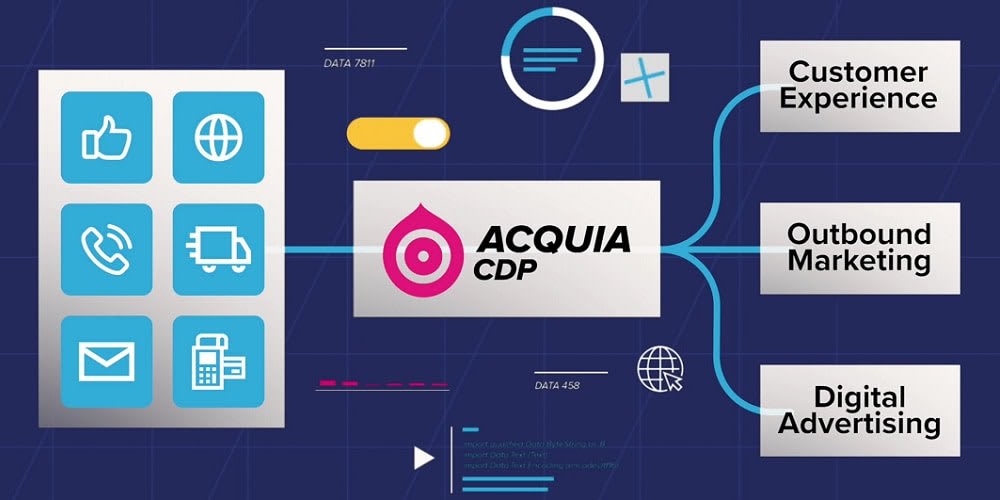 Acquia offers a number of products:
Acquia CMS that helps create websites,
Cloud IDE, a set of flexible development tools,
Content hub, a cloud-based content distribution and discovery service,
Acquia CDP, etc.
What Acquia CDP can do:
unite data in a so-called 360 customer profile,
segment data,
create effective campaigns,
track campaign metrics and audience behavior,
exchange data with other sources,
help obtain certain data through a built-in SQL editor – no IT specialists needed.
Acquia offers 3 self-service plans: Personal ($148/month), Small ($296/month), Enterprise (custom pricing based on requirements).
4. Bloomreach
Bloomreach was founded by Raj De Datta and Ashutosh Garg in 2009. In 2021, Bloomreach acquired Exponea, a Customer Data and Experience Platform, and renamed it Engagement. Today, Bloomreach is a comprehensive ecosystem of marketing products. Its clients include Yves Rocher, Bosch, Unisport, and many others.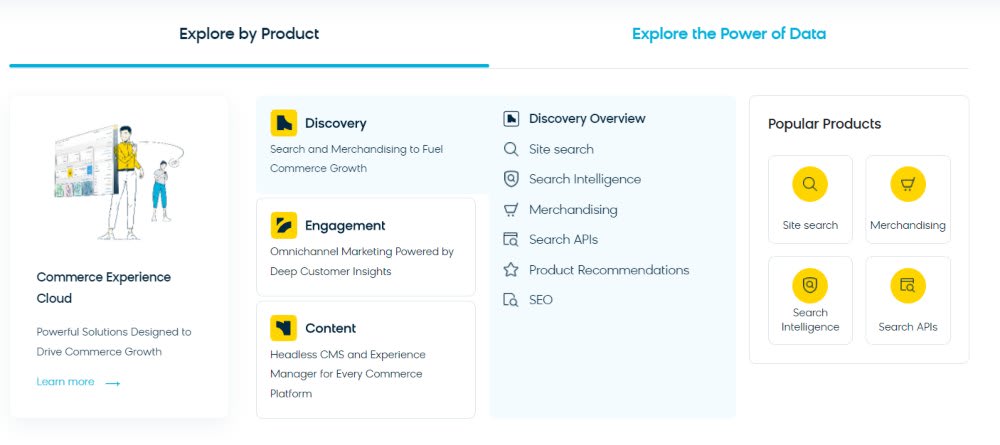 Bloomreach consists of three components:
Discovery — a combination of AI-based website search, SEO, recommendations, and product merchandising;
Engagement — a single CDP that combines the powers of many tools;
Content — a CMS.
What Engagement CDP can do:
gather data into a unified customer profile,
analyze and process data,
source data from different channels,
offer ready-made integrations and create custom ones,
track the customer journey,
work with scenarios,
create personal offers.
Bloomreach's plan pricing depends on the number of customers, products, and campaigns. Each is tailored to specific needs and budget.
5. just
just was developed in 2019. The platform was initially designed for internal use, but later it became obvious that many businesses can benefit from it.
just is an ecosystem of services for storing and processing customer data, content marketing, mailings, and customer communications — all of this in a single interface. just can help understand which content engages your audience and which channels are best for its distribution.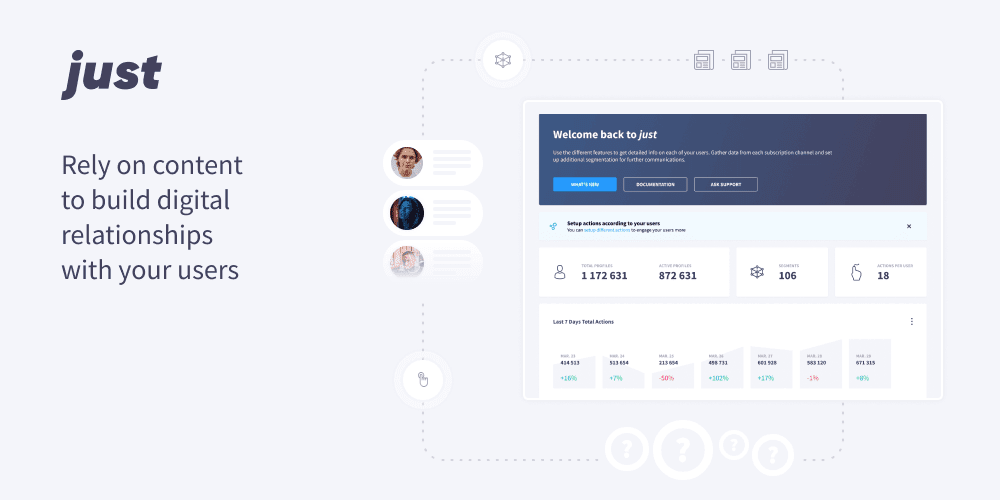 just consist of:
a content management platform
a multichannel mailing system,

a customer data platform,

a customer support service.
What just can do:
collect customer data,
source information from different channels,
segment data,
analyze the audience based on behavioral models,
suggests options for marketing events.
just offers three plans: jContent is free, jManage starts from $199, jSend has custom pricing based on the business's needs and campaign scales.
Customer Data Platforms are an indispensable business tool. When choosing the best fit for your business, do not fall for positive reviews and popularity — always place your needs first. If you're still at a loss and unsure what to choose, if CDPs seem too complex to you, we suggest that you try the product whose name promises it works just like that — start collecting data with just for free, without taking any risks.