What types of communications platforms exist and how they are used
Finding a collective term for every tool that enables customer communications across various channels is a challenge in itself. This is why we decided to focus on the term "ESP", or Email Service Provider, since email was the first online marketing instrument, and this abbreviation is often used in a broader sense. The world's first-ever mass email was made in 1978 by American marketer Gary Turk. He sent a spam email advertising Digital Equipment Corporation computers to the users of ARPANET, the first public network that is considered to be the forerunner of modern internet. Today, communications channels are not limited to email; there are SMS messages, push notifications, social media, messengers, etc.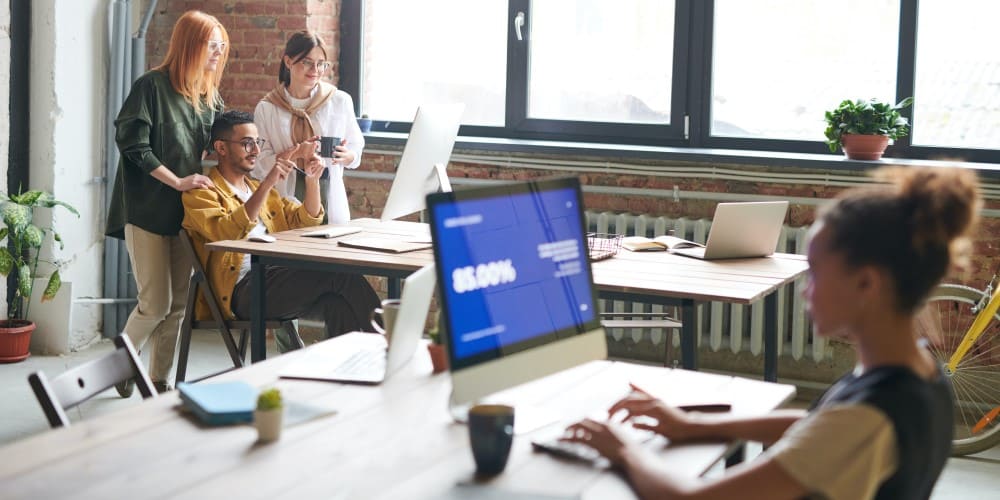 Based on their technical characteristics, there are five types of ESP platforms:
Enterprise marketing clouds
These platforms are based on the DIY principle, but offer some guidance. A single interface helps marketers create, send, and improve their emails on their own, no developer team necessary.
Platforms of this type work best for:
big businesses;
companies that need more than simple mailings;
companies that share data with branches and units.
Next-generation platforms
An updated model that includes advanced technologies like updating data in real time, AI-based strategies, content management and customer communications based on machine learning.
Platforms of this type work best for:
small and medium-sized businesses,
teams who rely on agile marketing workflows,
companies who intend to upscale, need advanced reporting tools, and other complex features.
Lead-nurturing and marketing-automation platforms
Designed for B2B interactions, these platforms help create and efficient sales funnel, retain and win customers back for a long-term relationship rather than a short one.
Platforms of this type work best for:
B2B companies that perform audience analysis, lead nurturing and scoring;
companies improve their performance through customer success, lead nurturing and winback strategies;
businesses whose sales are based on multiple points of contact;
companies that have complex data integration across their branches.
Developer-friendly platforms
Choose this type if you have an in-house developer team. Developers will run complex integrations with email platforms, databases, behavioral data, interactions in various channels, and messaging factors offered by the platform.
Platforms of this type work best for:
government services, retailer chains, financial companies, health care businesses, and other companies with great transactional needs;
companies that are using another platform (a CRM, a CDP, or another marketing tool) and want to level it up by adding a sending engine.
This platforms are the most user-friendly of them all. They can even be used by a team of one, a marketer who has little to no knowledge of email marketing, or has a low budget.
Platforms of this type work best for:
small businesses or startups;
quickly growing companies;
companies with limited budgets and/or technical specialists.
5 Modern Platforms for Customer Communications
A team of developer was looking for a simple tools for customer interactions but found nothing that could satisfy them. Then, they decided to create a tool of their own, and this is how, in 2009, OneSignal was founded. Today, its clients include Bitcoin.com, Blue Wizard, Better Me, and many, many other big businesses.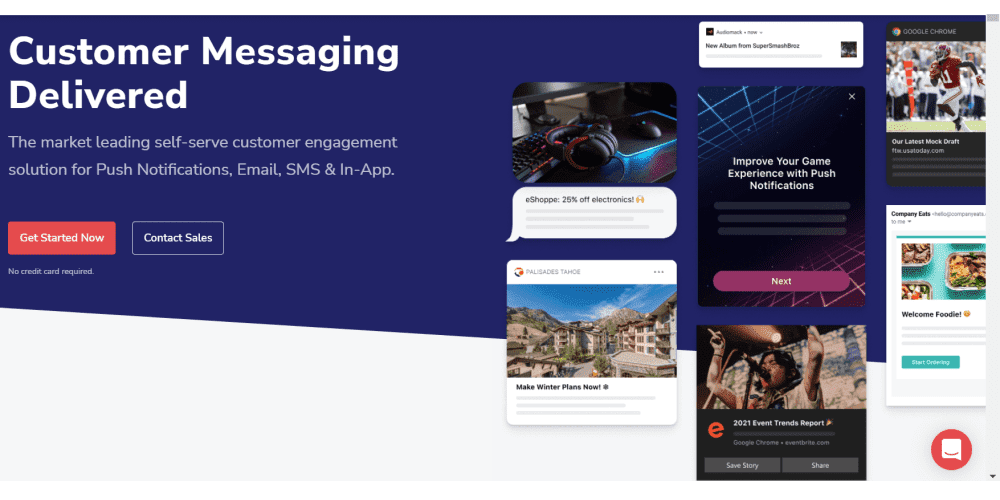 OneSignal offers personalized communications, sales funnels, audience segmentation, and campaign performance analysis. It can also integrate with third-party platforms and systems.
Communications can be held across various channels:
OneSignal has four plans: free, growth (starting from $9/month). professional (starting from $99/month), and enterprise (custom pricing). The higher the price, the more features available.
In 2001, Ben Chestnut and Dan Kurzius started a web design agency called Rocket Science Group. After a few years, the agency created MailChimp – a digital marketing service intended for small businesses. In 2007, Chesnut and Kurzius decided to close the Rocket Science Group and focus their effort on MailChimp. Today, the platform has over 12 million users.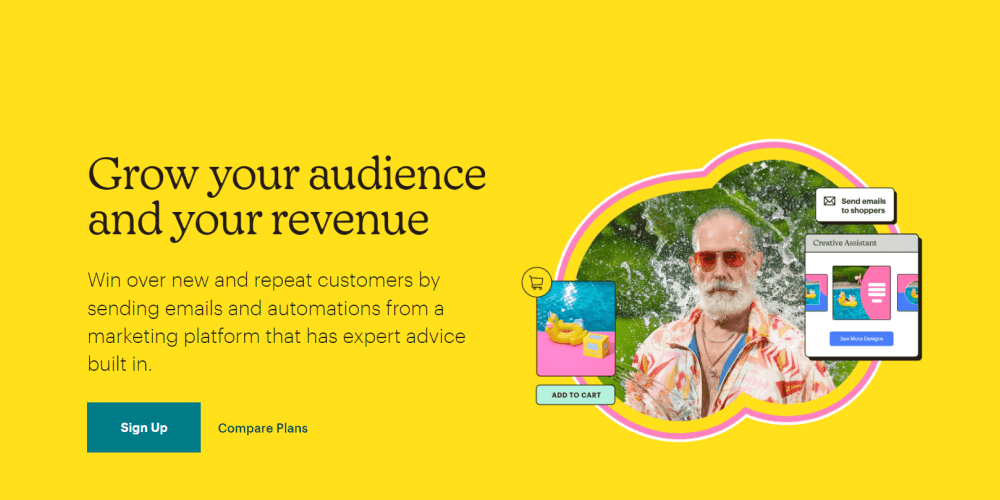 MailChimp includes a CRM, a CDP, a CMS, a CMP, and an ESP. Its versatility and comprehensiveness helps businesses build effective marketing strategies. However, MailChimp offer a single communication channel only – emails.
There are four marketing plans: free, essentials, standard, and premium. The price depends on the available functionality and number of contacts, e.g. the free plan can be used if you have under 500 contacts.
Klaviyo was created in 2012 by Andrew Bialecki and Ed Hallen. It started as a CDP, but the founders appreciated their customers' feedback and had their development team add the mailing functionality. Thousands of companies in over 80 countries of the world are building their businesses with Klaviyo.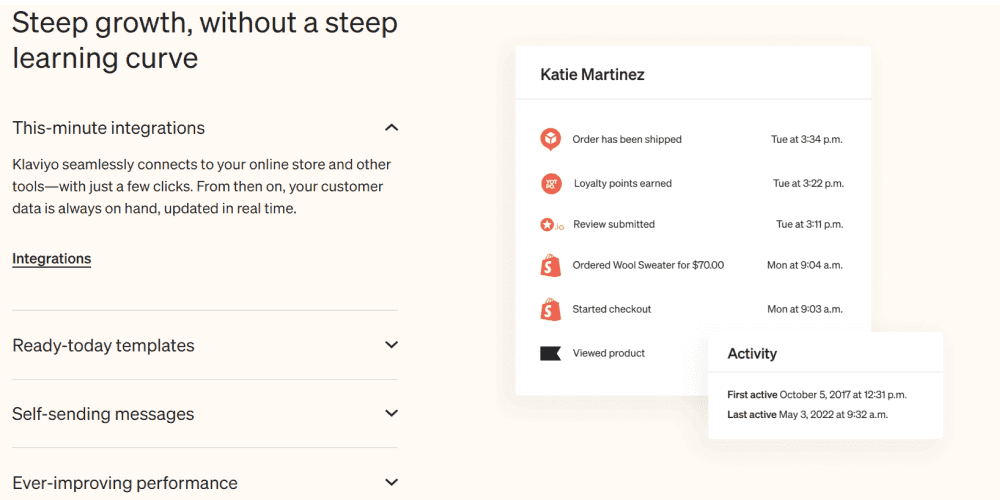 Together with the CDP, this ESP increases the efficiency of customer communications – thanks to the added benefit of customer data.
Communications are carried out in two channels: email and SMS.
The pricing depends on the country of operations, as well as on the number of contacts for email and SMS communications. You can use the free plan if your contact list only contains up to 250 contacts, and 500 monthly email sends sound like a sufficient amount. The free plan also allows to reach up to 50 contacts every month with up to 150 SMS messages in total.
Founded in 2008, Twilio initially was a cloud-based call center. An ESP was added later – in 2010.
Nowadays, Twilio offers a multitude of services: working with sales funnels, customer authentication, video presentations, building IoT solutions, customer data and phone call security, etc. Among its clients, one can find Coca Cola Enterprises, Airbnb, crypto.com, Dell, Twitter, and many other famous names.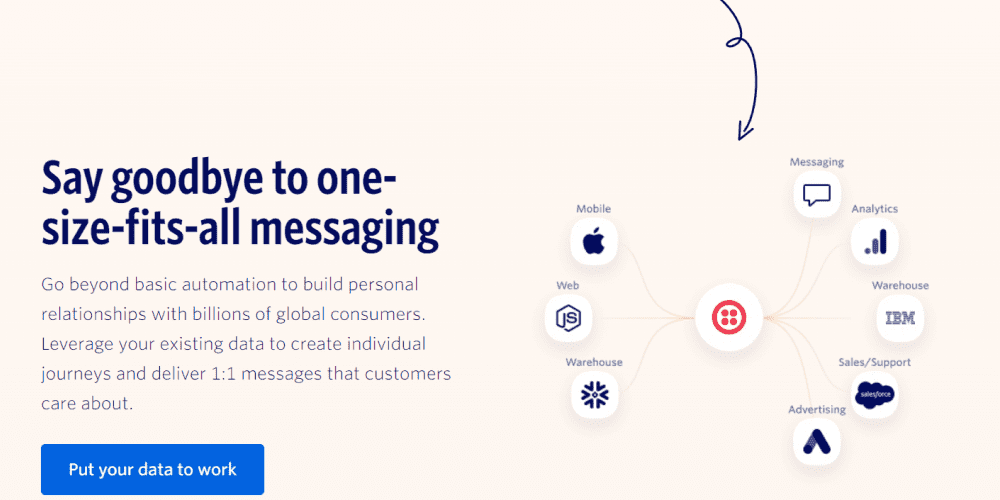 Twilio offers communications via the following channels:
The price is determined for each channel separately. There is a free plan for emails with 100 daily emails available.
5. just
Created in 2019, just is a young platform. But it already is an ecosystem of services that help businesses build and improve customer interactions with the help of content. just includes a customer data platform and a content management platform where you can not only create but also rent and order custom content. It offers integration wittth popular mailing systems and provides a service for customer support – and all of that can be accessed via a single user interface.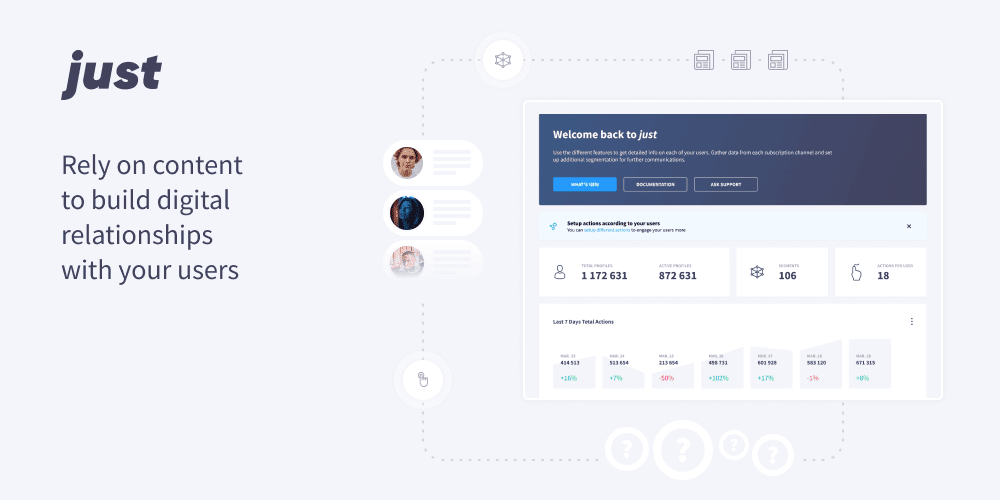 just helps you reach customers in three channels:
There are three pricing plans as well:
jContent is a free plan that allows you to access the features of content creation, rent, custom orders (at extra charge per each), and publication;
jManage starts at $199. It offers access to the CDP (up to 500,000 customer profiles, segmentation and expansion are available at extra charge) and CMP. Free 30-day demo access to push notifications is available as well;
jSend starts at $399 and offers unlimited access to all the services of the ecosystem, including the CMP, CDP with a storage capacity of 2,000,000 customer profiles and possible expansion, and integration with popular mailing platforms and systems. Personal technical support will be provided as well – a nice bonus!
No business can survive without customer interactions. The modern market is flooded with mailing and communication services, so you need to choose wisely, taking into account your specialization, your contact list, and planned frequency of interactions. If you enjoy stability and would hate to move to a new platform, try just – it's effortless and free.