Content Marketing Platforms and Systems: Types and Uses
There are several types of products designed specifically for content marketing purposes. The most popular of them are the following:
content marketing platforms or CMPs, allow businesses to manage content and analyze its performance in a single environment. The primary goal of a CMP is to streamline all content marketing efforts, starting from content creation and up until working with user feedback.
content marketing systems, or CMSs, help organize the creation and management of digital content; it's primarily used for web content management. A CMS helps businesses to create websites, no coding required.
marketing automation platform, or MAPs, enable businesses to track their customers' journeys by following their reaction to content, i.e. it focuses on the potential buyer.
CMS and MAP work best for small-scale efforts, while CMP can embrace both CMS and MAP. CMP offers more tools and features, enabling whole teams to work with content and improve campaign performance by joining forces of various specialists. However, the most convenient product for content management is the one that includes all three types.
Content marketing platforms and systems are indispensable for any business that sells goods or services: a toy store, a beauty parlor, a car repair shop chain, a food retail corporation, a law firm, an online school, a health clinic, or an event agency. To find their customers, businesses have to promote themselves, i.e., to create, design, publish, and distribute content. Take a look at our list of content management solutions and choose the most suitable one for your business.
4 Popular Systems and Platforms for Content Marketing
1. WordPress
In 2001, French programmer Michel Valdrighi started developing a blogging tool. He stopped working on it, but Matt Mullenweg, an American entrepreneur and web developer, revived the project. Today, WordPress is the world's most popular CMS.
Individuals and companies use WordPress to create websites, online shops, and blogs. It doesn't require a unique professional training because it allows you to assemble a website from ready-made 'building blocks.'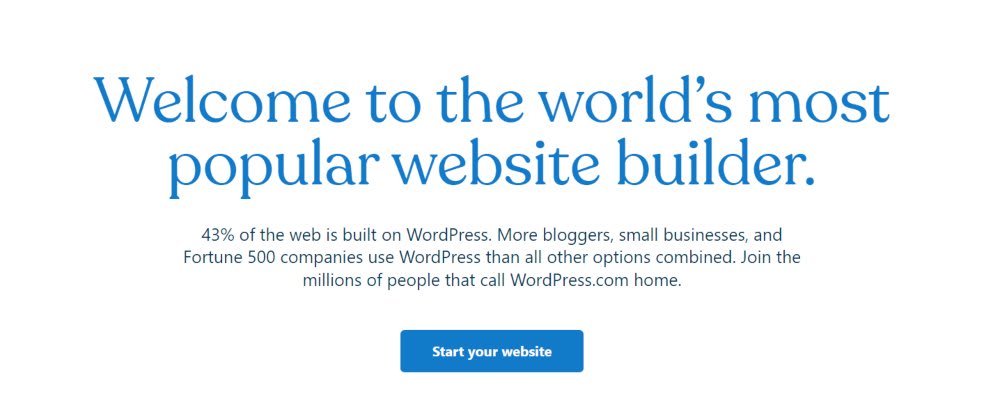 Strengths and weaknesses:
+ simple and straightforward interface,
+ free access,
+ further website improvements are possible,
− no official tech support,
− paid plugins and widgets,
− open-source vulnerabilities.
2. HubSpot
HubSpot is a cloud-based CRM platform founded by Brian Halligan and Dharmesh Shah in Cambridge, USA, in 2006. It was initially devised as a CRM. With time, it has only grown in size and complexity.
HubSpot consists of five hubs:
Sales Hub
Service Hub
Operations Hub
CMS Hub
Marketing Hub.
The ones that are directly connected to content marketing are the CMS Hub and the Marketing Hub.
The CMS Hub can help you create a website using templates or code certain elements in HubSpot's own templating language called HubL. The CMS Hub will work equally well for beginners and professional website developers.
HubSpot's Marketing hub is a CMP that helps create content for blogs, emails, social media, and website. It also has built-in analytics, all-embracing data tracking, and custom reporting.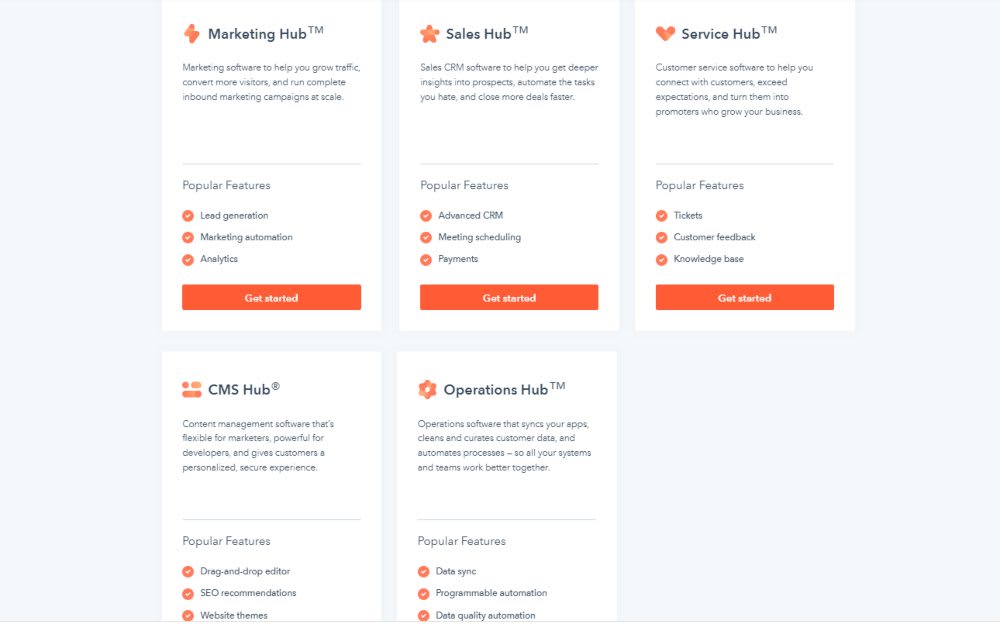 Strengths and weaknesses:
+ all-in-one CRM,
+ 24/7 customer support,
+ free plans in most of the hubs,
− limited functionality of free plans,
− CMS only has no free plan, only a 14-day free trial,
− high price.
3. Contentful
Created in Berlin in 2013, Contenful is a CMP that was initially called Storageroom. Today, Contentful is an advanced platform that enables teams to unite their content in a single environment and structure it for further use in any marketing channel. The platform can easily be integrated with hundreds of tools via API.
Contentful is a great asset not only for content creators, but also for developers and team leaders. Its clients include world-famous companies like IKEA, Spotify, and Red Bull. You can also become a client of Contentful even if you can't afford any of its paid plans — there is a free tariff available.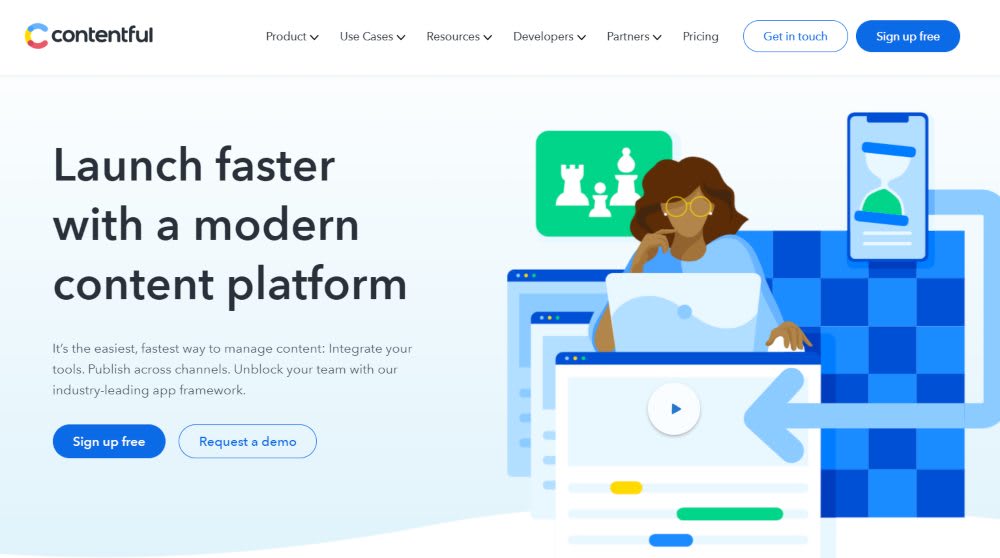 Strengths and weaknesses:
+ easy integration,
+ multilingual content,
+ a free plugin for images,
− user-unfriendly interface,
− high probability that you'll need a developer help,
− high price.
4. just
just is a very young project, but it already is a user-friendly and affordable ecosystem of services that offers the functionality of a CMP and much more. It was created by Russian company "Regium, Corp." in 2019. just was initially intended for in-house use, but it soon became obvious that other companies could also benefit from using it. Its creators wanted to keep things simple and straightforward, so they named their product "just," meaning "just the things you need and nothing extra."
Working with just is really simple — just like that:
Integrate your website with the platform.
Choose ready-made content from the Marketplace and rent it for free or buy out forever. If nothing suits you, order custom content to be created based on your requirements.
Publish content on your website straight from the interface.
Segment your audience, create and send campaigns in different channels.
Gather user data, track user activity, and adapt your content marketing strategy accordingly — and all of this without even leaving just!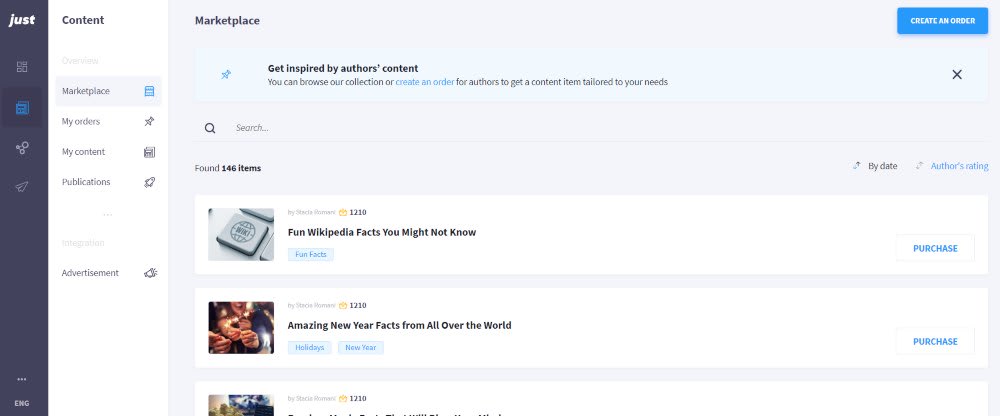 Strengths and weaknesses:
+ simple and straightforward interface,
+ team work,
+ multilingual content,
+ suggesting new features and improvements to the creators,
+ the ecosystem includes everything you need not only to create content, but also to rent or buy, publish, and send it to your customers. Moreover, it allows to receive and work with customer feedback, track customer interests, segment your audience, and monitor your stats,
− historically, the platform was only used for U.S.-based clients, so the content that is available for rent and buying is mostly in English,
− the project is still young, it has yet a lot to develop.
What to rely on — a CMP, CMS, or MAP—is completely up to you. Set your goals, find out what your team needs, and then make your choice. If it turns out to be too difficult, we suggest that you try renting content for free in just — without any risks and investments.